I was reading my friend, Jessica's blog, and just saw that she'd given me this little award. What a sweet friend :) Thanks, Jess! You just made my day lots happier. It has been pretty good so far but now it's even better. I mean, how could it not be a great day with the news I got this morning?!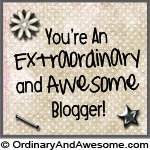 Her blog,
Crafty Cafe
, is amazing. Tons of fun tips and other cool stuff. Check it out.
Thanks, Jess!! I hope you have a great day.