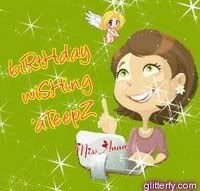 I just got tagged (by Emma, also a former member of the AC Bailey design team) with this so I am passing it on. If your name is below, please follow the rules.
Here are the rules:
1. Make a list of what you want for your Birthday.
2. The list should be 10 items
3. Include the image of the award on your post
4. Give it to ten friends.
This tag is quite time-appropriate as it requires me to list what I would like for my birthday. Being that my birthday is next week, this will MAKE me make that list that my husband has been asking me to do for him. I'll just tell him that he has to look at my blog to find it...something he is often too busy to do :)
Here is my wish list:
1. A day off from chores and cooking
2. an hour-long nap
3. Getting to shower every day in the same week (some days it just doesn't happen- most of the time, yes, but sometimes no)
4. A manicure and pedicure (I am actually getting this after my birthday)
5. Some lovely new lace to add to my trim collection for cardmaking and scrapbooking
6. The book, "Understanding Exposure." I've heard this is excellent.
7. A UV filter for my zoom lens
8. A date night with my husband...alone...out somewhere. We have lots of dates at home after the kids go to bed...movies, games, etc. but not too many nights out.
9. A spot on the Nook design team
10. to feel at peace in all areas of my life.
I will now tag: Ellie Malsbary, Mom Nearing, Phoebe Wilson, Lisa Carroll, Linda Joona, Jamie Cotter, Connie Mercer, Sami Carter, Janelle Guymon and Jenifer Moss. Have fun!!