Well, here it is!!!!
This is going to be such a fun kit to play with, I can't hardly wait for it to get here. Not only is it full of cute My Mind's Eye "Little Boy Blue" but there is some Jillibean Soup as well, and some other fun little additions like felt stars from Making Memories and leaf pins from Maya Road.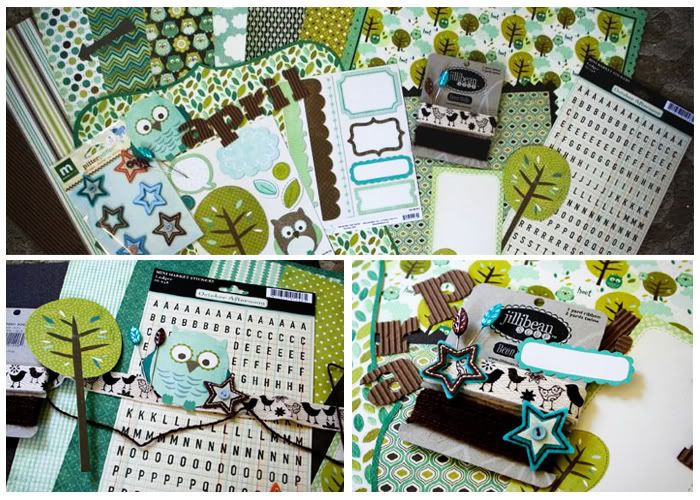 April Showers Are Here! Check out our super cute April kit, loaded with boyish charm in rainshower shades of blue and green! This kit includes:
7 Double Sided My Mind's Eye "Quite Contrary" Papers
3 Die Cut "Quite Contrary" papers
1 Jillibean Soup Printed Twill/Twine set
1 Jillibean Soup Corrugated Alphabet in Kraft
My Mind's Eye Journaling spots and die cuts
My Mind's Eye sticker sheets in both borders and labels
Maya Road leaf pins
Making Memories Felt Stars
October Afternoon Mini Market Sticker Sheet
So, have I talked you into joining the kit club yet?
http://www.myscrapbooknook.org/club.shtml
I just found out what is going to be in the MAY kit and you will definitely NOT want to miss out, so SIGN UP!!! These kits go so very quickly because Leah is just THAT good at putting things together.
p.s. and, for kit club members only, Pink Paislee's "365 Degrees" is now for sale in the shop! Grab it fast because it will be gone before you know it.
http://stores.myscrapbooknook.com/-strse-820/******Add-dsh-on-fdsh-Pink-Paislee-fdsh-Members-Special-Only-fdsh-365/Detail.bok