Were you looking for the My Scrapbook Nook blog hop?
Well, you're in the right place!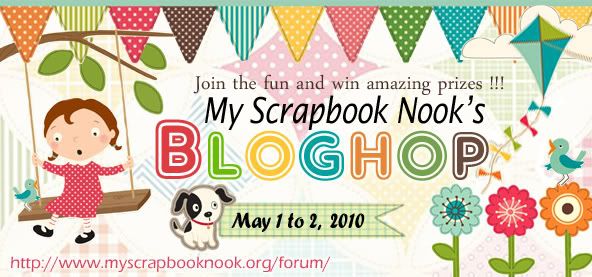 You should have arrived here from
Lori's blog
after starting at
Leah's blog
and hopping right on down the list. If you didn't start with Leah, here's the list so that you won't miss out on anything:
So what's in it for YOU?
The grand prize winner will receive the entire "So Sophie" line from My Mind's Eye as well as their other release, Meadowlark. Two runners-up will receive a Jenni Bowlin kit and a SEI prize package.
Pretty cool, huh?
All you have to do to be eligible for the prizes is to leave a comment on each blog that you visit during the hop. One blog will be chosen via random number generator to have three winners chosen from it, also via random draw. Because you don't know which blog will be the lucky one you should visit ALL of them ☺to increase your chances of winning. The prize winners will be posted on our Facebook Fan Page and
in the forum at My Scrapbook Nook
by
May 4th
.
Before I get started, how about a peek at the June Nook kit? We had so much fun with the "Little Boy Blue" line from My Mind's Eye that we decided to go for more MME in June. We'll have 15- yes, 15!!!-papers from the new Clever and Sassy lines. I'm loving it! How about you?
This will be perfect for scrapping summer photos, pictures of boys OR girls or anything else you might have in mind. Leah's gorgeous handiwork in the picture above makes me so excited to get my kit.
Would you like to see more work from our amazing international design team? Check out the gallery here:
So, how about some more from Leah? She's our amazing design team leader and the master mind behind the incredible kits we get each month at My Scrapbook Nook. She has an eye for detail and such incredible talent.
Isn't she just incredible? I think so. ♥
And now for something from me using the May kit. This is my sweet Aimee, 2 1/2 years old. She and her sisters were playing one day with some of Aimee's old baby clothes and this is Aimee all dolled up in a little pink dress.
And a couple of detail shots:
I used the Thickers from the kit, only I wanted something different from the original pink color so I used my handy dandy black Copic marker and voila!
For this page I used my EK Success retro flower punch and also cut out out the little girls and "make believe fun" from a sheet of the "Fly A Kite" patterned paper.
Here, once again, is the super-fun May kit, filled with goodies from October Afternoon, Jenni Bowlin, SEI and KaiserCraft. You can order your own kit and start a subscription by clicking here:
Now that you've perused all of the Nook design team member blogs please
head back to the forum
and let us know you've completed the hop and to give us any feedback you wish!
Happy National Scrapbook Day!