Yes, I know that it's Friday but I was so excited about this one that I thought I'd post about it today to give you more time to enter. I'll keep this open until Monday 12pm EST.
Are your kids back in school now and you have some extra time to scrap?
Could you use a little scrappy inspiration to get that mojo flowing?
Well, I have just the thing for you: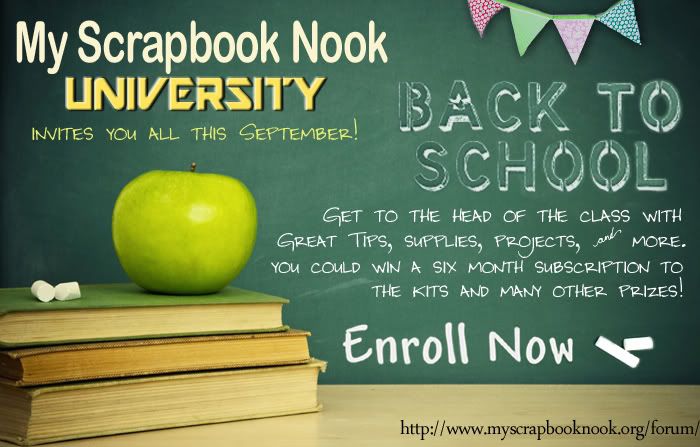 We've had lots of people sign up so far and from what I've seen so far of the designers' preparation for this, it's going to be so much fun and you just might learn a new thing or two. We'd love to have more people to join us and have you heard? Along with other prizes that will be given away one winner will receive a 6 month subscription to the kit club. That's right! 6 MONTHS! That's incredible, don't you think?!
In order to get you more excited and have more people join us I thought I'd do a little giveaway.
I'll put together a bunch of fun scrappy things for the winner, just what I'm not sure yet but it will be a great prize.
All you have to do is head on over to the Nook and sign up for the contest and participate in what you can.
Leave me a comment here to let me know you've signed up and I'll enter you for my giveaway.
Would you like another chance to win my scrappy prize? Simply head on over to the Nook and sign up for the newsletter, filled each month with fun scrappy projects, Nook news and great deals. After you sign up leave me a comment here to tell me you've done it and I'll enter your name in my drawing a second time.
How about this? If you invite one of your friends to sign up for the challenge I'll give you another chance to win, just leave me a comment here telling me the name of your friend. If you get them to sign up for the newsletter leave me a comment about that, too. That gives you LOTS of chances to win.
How does that sound?
Pretty darn fantastic?
Well, what are you waiting for? Head on over to the Nook today!