It's that time again...design team call time at My Scrapbook Nook.
If you love the Nook and its kits this is the team for you! It's been so much fun to be a part of this team over the last year or so, the international team is top-notch, the kits are gorgeous- wait til you see what we're cooking up for September!!! (I know, I shouldn't tease!) and Leah and Pam are so great to work for/with.
First of all, here's another look at the August kit, a glimpse of the gorgeous product you'll be able to work with: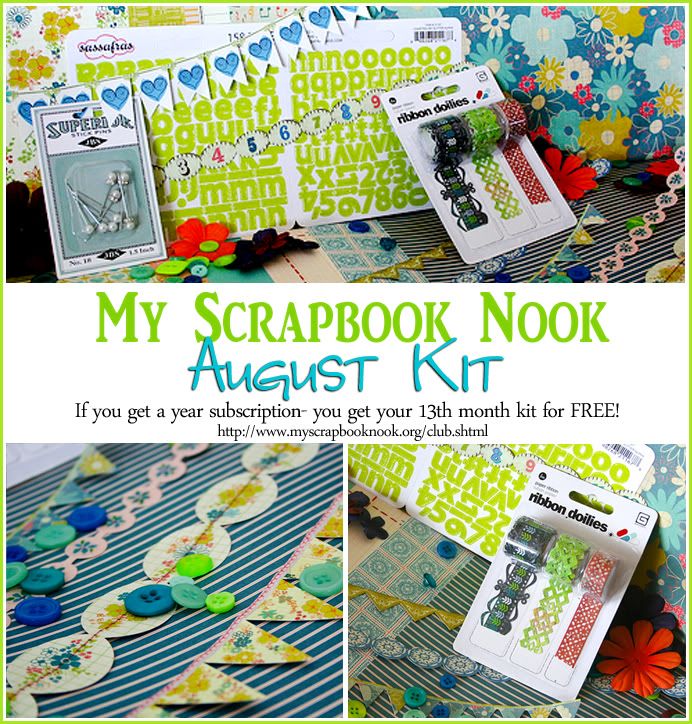 And here is the design team call information, straight from Leah (DT leader and kit designer extraordinaire) herself!
My Scrapbook Nook Kits is looking for a few designers!



You might be a great fit if:
You like working with brand new product!
You can create on a deadline!
You're a team player!
You enjoy actively participating on a message board!
You have a blog!
You contribute to online galleries!
You're friendly and kind!
You can create an online tutorial detailing how you created something!
You love to scrapbook, alter or make cards!

All designers receive one free kit per month, plus a 25% discount to the online shop and all kit add ons. Your bio will be on our site, you get your own folder in our gallery, you get to participate in give-a-ways, bloghops, virtual crops, and we send occasional freebies and manufacturer donations your way.

To apply, please send an e-mail to dt@myscrapbooknook.com .

Include:
Full name
Message board username (if applicable)
Phone number
Address
Other design obligations
Why we want you
A link to your online gallery (no attachments, please)

Applications are due by August 10th, at which point we will invite our top finalists to a meet and greet on the message board. DT will be announced by August 14th.

Your DT term is 6 months, with an option to reapply for another term.

We accept international applicants, but we ask that designers outside of the US and Canada contribute $10 toward kit shipping each month.

Check us out at www.myscrapbooknook.com !